To ALL females capable of conceiving:

*FA - Folic Acid - helps prevent Spina Bifida and other NTDs.1
Clonfolic is the market-leading brand.2 Take one tablet daily.
Clonfolic contains folic acid which belongs to a group of vitamins called 'B vitamins'. It is essential for good health. 
Folic acid is required for the manufacture of nucleic acids-the genetic material of cells. It is vital for the development and proper function of the central nervous system. Clonfolic is indicated for the prevention of first time neural tube defects* (including Spina Bifida) in the foetus. The neural tube is part of the nervous system and is located within the spine. Neural tube defects cause stillbirth, neonatal death and severe disabilities such as Spina Bifida. 
Clonfolic is indicated for use by all females who are capable of conceiving, whether planning to do so or not. 
**NTDs or Neural tube defects are birth defects of the brain, spine, or spinal cord. They happen in the first month of pregnancy, often before a woman is aware she's pregnant.
The two most common neural tube defects are Spina Bifida and Anencephaly. In Spina Bifida, the foetal spinal column doesn't close completely. There is no cure for neural tube defects.
**US National Library of Health
Spina Bifida is a condition which affects about one in every 1000 children born per year in Ireland. Ireland has one of the highest incidences of spina bifida births in the world.
Spina Bifida is the most common neural tube defect (NTD) which causes incomplete development of the spinal cord in the womb.
Translated, it literally means 'split spine'. The spine is made up of separate bones called vertebrae which normally cover and protect the spinal cord. With Spina Bifida, one or more of these vertebrae are not completely formed. Instead, they are split and the spinal cord and its coverings usually protrude through a sac-like bulge on the back, covered with a thin membrane.
Source: Spina Bifida Hydrocephalus Ireland

How can I
prevent NTDs?
Currently it's not possible to completely prevent NTDs occurring. However, studies have shown that over 70% of first time neural tube defects such as Spina Bifida can be prevented by taking 0.4mg of folic acid.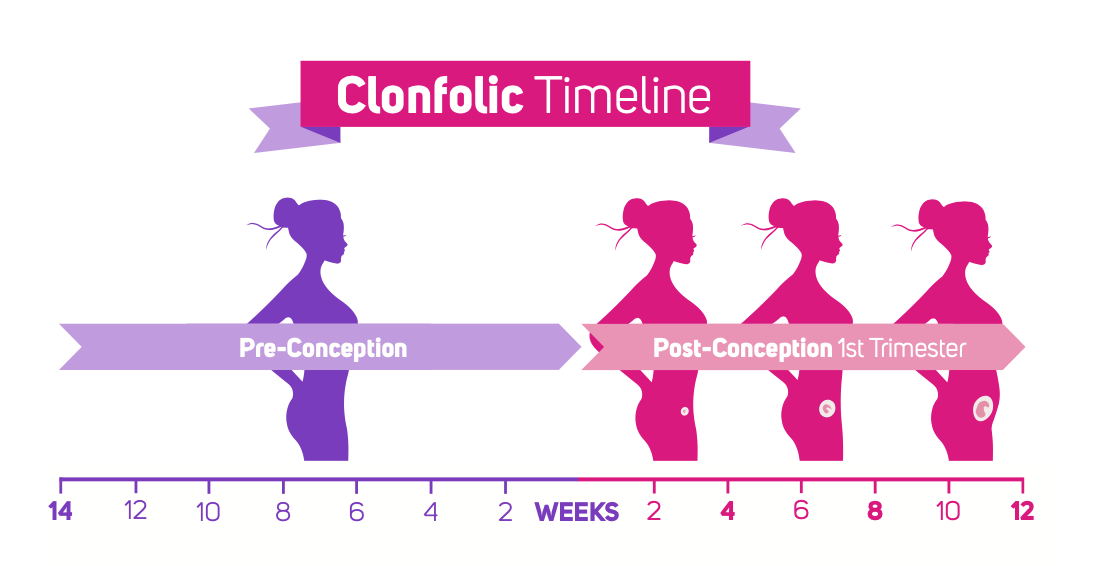 How do I ensure I'm getting the right amount ?

When should I start taking Clonfolic?
For females capable of conceiving, you should be taking one Clonfolic tablet daily from at least 14 weeks in advance of becoming pregnant and continue to take for at least the first 12 weeks of pregnancy.

Should I take Clonfolic every day, even if I'm not planning on getting pregnant?
All females who are capable of conceiving should take 0.4mg folic acid every day. Almost 50% of pregnancies are unplanned. When an unexpected pregnancy occurs, it may be too late to help support a baby's spine and brain development by taking folic acid.

Where can I buy Clonfolic?
Clonfolic is only available from your local pharmacy.

It comes in handy 28 (1 month) and 98 (3 months) calendar pack sizes.
You actually need folic acid
Always read the label. Consult your doctor if you have a family or personal history of pregnancies resulting in neural tube defects, have diabetes, are obese, or take anti-epileptic (anti-seizure), or other medications. The tablet also includes lactose monohydrate. Keep out of sight and reach of children.
Reporting of side effects. If you get any side effects, talk to your doctor, pharmacist or nurse. This includes any possible side effects not listed on the patient information leaflet and packaging. You can also report side effects directly via HPRA Pharmacovigilance, Earlsfort Terrace, IRL – Dublin 2; Tel: +353 1 6764971; Fax: +353 1 6762517. Website: www.hpra.ie; E-mail: medsafety@hpra.ie. By reporting side effects, you can help provide more information on the safety of this medicine.
References:
1. NTDs (Neural Tube Defects).
2. Leading sales brand in pharmacy – IQVIA, IRLP audit, units, MAT Jan 20.

Clonfolic 0.4mg tablets
PA 126/95/1 PA Holder Clonmel Healthcare Ltd, Waterford Road, Clonmel, Co Tipperary, Ireland.
www.clonmelhealthcare.ie
2019/ADV/FOL/081C